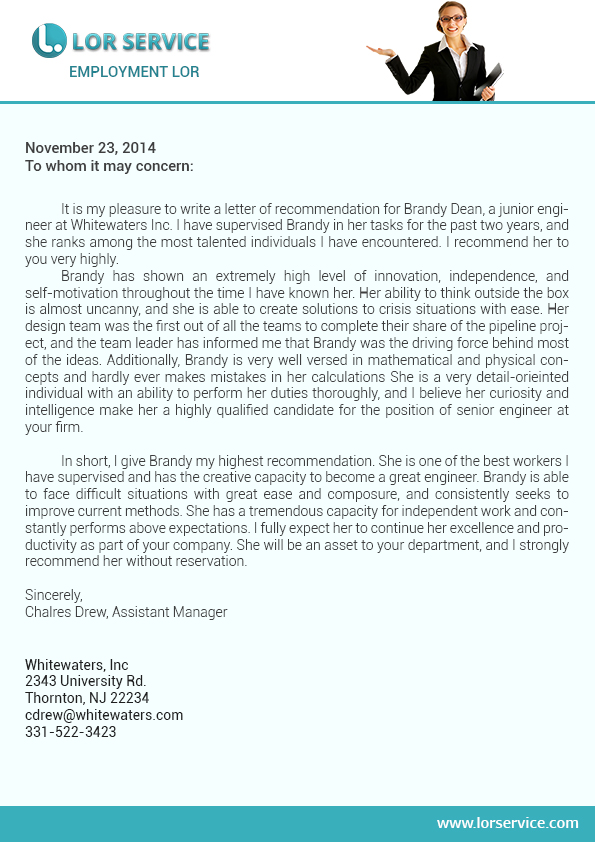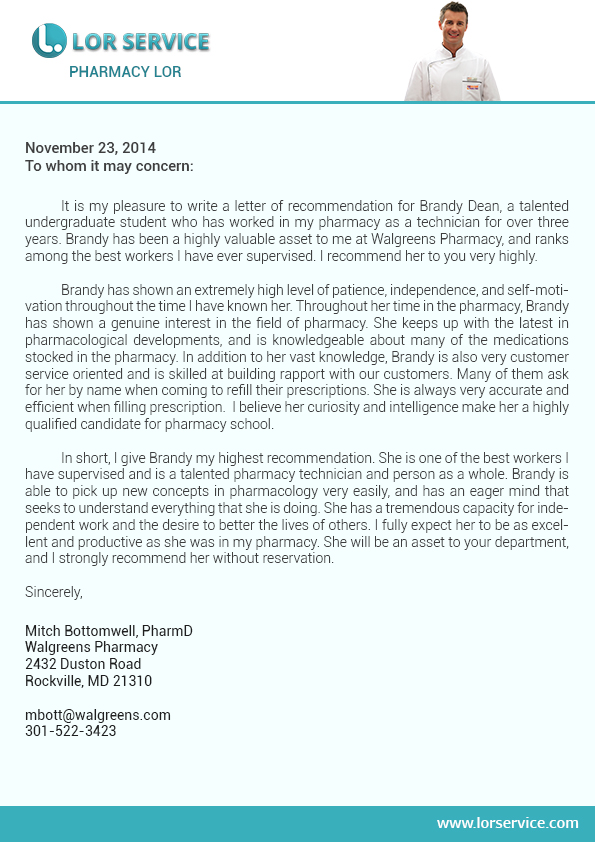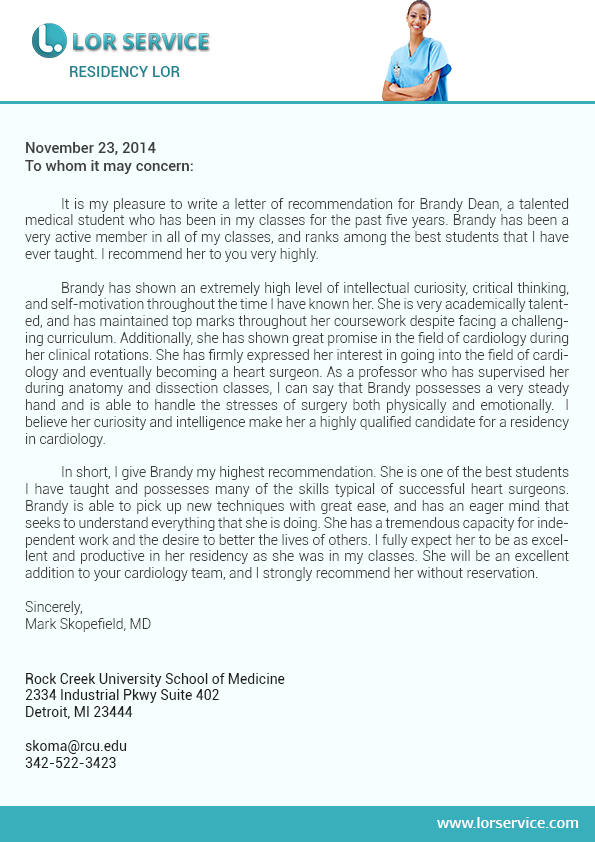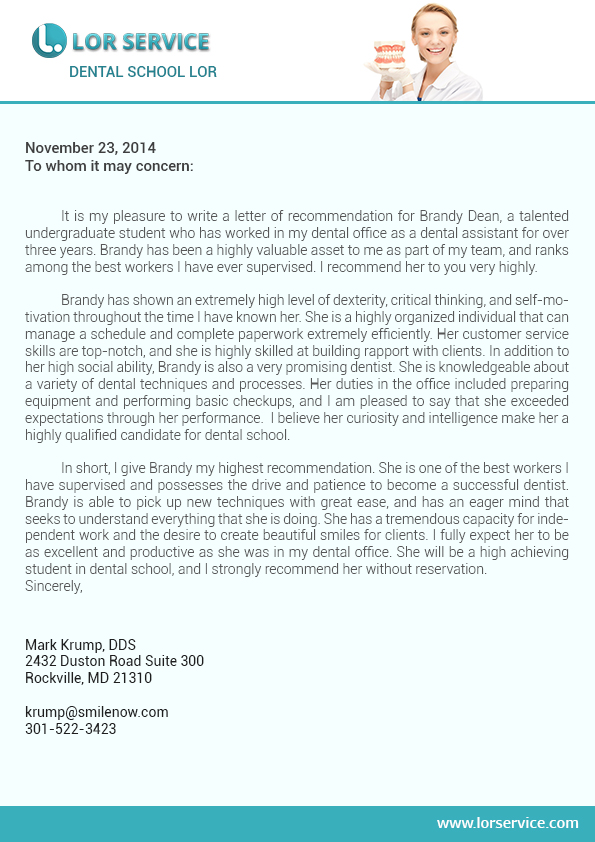 Proper Graduate School Letter of Recommendation Sample
Check a sample of the letter of recommendation for graduate school:
April 13, 2014 To whom it may concern:
I highly recommend Vincent Cruz as a candidate for graduate school. I used to be his Engineering Professor and colleague in the College of Engineering and Architecture at the Mindanao University of Science and Technology (MUST), Cagayan de Oro City, Philippines.
During his college days, Mr. Cruz consistently has showed interest and diligence in his studies. In fact, from his freshman year until he completed his bachelor's degree in Electrical Engineering, he was always on the Dean's List with a GPA of 1.9. I first met him when I taught Differential Calculus in 1991. At that time, the University went through some administrative constraints which then resulted to classroom lockouts. Mr. Cruz took the initiative to gather all his classmates and led what he called, "group study" which began with eight students only and eventually the number of participants increased as the classes were still suspended. Most of those who joined in the group study have grades which were way below the passing mark. With this, Mr. Cruz and his friends, took turns in solving problems and tutoring those who cannot comprehend the principle of Differential Calculus. With determination and fortitude, 80% of those students were able to pass the subject. Aside from this, he also has a great ability in troubleshooting. He showed such prowess during an Interschool Competition, I was his coach that time when he managed to assemble a complicated circuitry within a 20 minute period out of a 30-min. time limit.. Thereafter, he competed for the Nationals Skills Olympics and garnered the 1st runner-up title.

Up to this day, as the Chairman and his colleague in the Electrical Engineering Department, he looks forward that his thesis about Wind Power as an alternative energy source will help his countrymen. In like manner, he can manage to use foreign language particularly Arabic both with written and oral communication skills and still finds time to handle the duties as a national officer to a Professional organization. I also witnessed his personal and professional struggles, however, he manage to rise above it.

Vince would be a tremendous asset to your program and I recommend him to you without reservation. If you have any further questions with regard to her background or qualifications, please do not hesitate to contact me.

Sincerely,

Dr. Ric Rotoras, PEE, Ph.D.

Chairman, EE Dept.
Take a look at our letter of recommendation for residency sample
Tips for Writing Your Letter of Recommendation for Graduate School
Looking at samples will provide you with many ideas as to how you should write the letter and what you should include. You will still, however, benefit from looking at some simple tips that will help you to keep your LoR writing on track:
Competency

. Do not offer to write a letter if you do not know the applicant or have anything positive to say about them. It is better to decline politely than to struggle to find something worthwhile to say.
Introducing yourself. Let the reader know who you are within your letter to establish your credibility; also show exactly how you know the applicant and for how long.

Honesty

. Give a fair appraisal of their personal abilities and how they compare to other students. Cover areas such as their leadership skills, attitude towards learning, and motivations.

Real-life examples

. Support your claims with short and concise examples to demonstrate clearly what the person is actually capable of.

Staying positive

. Avoid faint praise or criticism of the applicant. The aim of a LoR is to help them to win a place to study and anything that can be seen as negative will destroy that possibility.

Moving forward

. Make a clear statement recommending them to the program and give clear reasons as to why you think they would make a good choice.
Select Our LoR Services for the Best Help You Will Find Online
When you choose to work with us you will always get to work with a true expert that fully understands the application process and has many years of experience in writing letters of recommendation. They hold higher level degrees within the area in which they help and will work with you to ensure that they have all of the information required to provide an effective letter of recommendation. All writing is done with you and to a high standard and we provide you with unlimited revisions until you are fully satisfied with the letter provided. Letters are also checked for plagiarism and carefully proofread so that you can be sure that it is error-free and completely unique.
Our services always deliver on time and are covered by a full satisfaction money back guarantee. So if you have been looking at our sample letter of recommendation for graduate school and want support to write something of a similar quality just contact our qualified specialists here today.
Whenever you need your graduate school letter of recommendation sample, we are here to provide you with the best graduate letter of recommendation example!