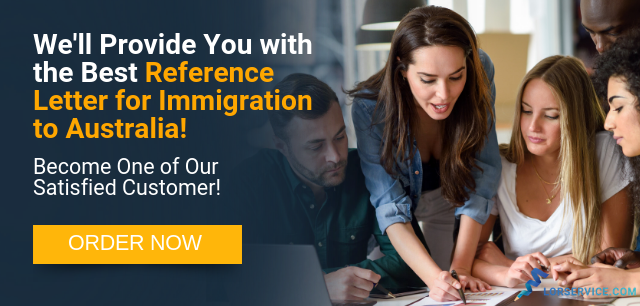 Why Is It Important to Have a Reference Letter for Immigration in AU?
It is obvious that reference letter for immigration to Australia is one of the compulsory documents which are required for ACS ICT skills assessment. If you understand the importance of letter of recommendation for residency, then it will be easy for you to recognize the significance of an employer letter of reference for immigration AU. Let's try to find, why it is important to have a reference letter for immigration in AU?
This is the reference letter that portrays your excellence in the academic career and relates your knowledge with the nominated occupation on the basis of a recommendation of your mentor.
A good reference letter makes it easy for the employer or institute to judge your behaviour and performance during the previous employment and makes a decision about your hiring on the basis of recommendations of your previous employer.
Without a reference letter, you have no proof of your knowledge, skills and abilities and no one will consider your claims without recommendations of a reliable person or a company.
Difference Between Professional Reference and Character Reference
To write a winning and appealing ACS reference letter from colleague or employer, you must have a clear understanding of differentiation between the professional reference and character reference. Otherwise, you can make the serious mistakes that will lead towards the rejection of your application. So, let's make our concepts clear about the difference between the professional reference and character reference:
| Professional Reference Letter | Character Reference Letter |
| --- | --- |
| The letter of reference from employer for immigration in AU | Depicts the letter of personal reference for immigration in AU |
| Only previous employers are authorized to make a professional reference letter for you at the letterhead of the company | Can be provided by the company, educational institute or even from your colleagues |
| A provider of professional reference letter only writes about your professional achievements | Any person that signs your character certificate provides the guarantee about your character and habits |
3 Main Features That Would Make Your Reference Letter Outstanding
Following these three main features that would make your reference letter for immigration Australia outstanding:
As a minimum, 65% of the duties provided in the employment reference must be strictly related to the designated occupation (ANZSCO).
Each employment reference must comprise the start and end dates of employment, working hours, employment status (full time or part time), employment location and valid contacts of previous and current employers.
To determine the relevancy of the experience as per designated occupation, description of performed duties must be the part of reference letter.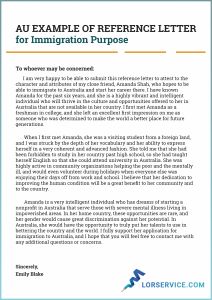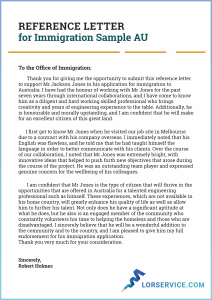 Mistakes That You Should Avoid in Making Reference Letter
Some applicants think that they can easily prepare the AU job recommendation letter without the assistance of any professional help. However, when they got rejection due to not fulfilling the requirements for the standard format of reference letter established by ACS, they realize the importance of hiring professional services for writing the winning reference letter. Most of the applicants got a rejection of application due to very common mistakes that they commit while writing a letter of recommendation in AU. Following are the common mistakes that you should avoid in making the reference letter.
Most of the applicants commit while submitting the reference letter for immigration AU is asking the employers or mentors to prepare the content of reference letter. Remember! No one has time to prepare the
good recommendation letters
for you. You have to prepare the content at your own and ask the mentor or employer to print this content at letterhead of company or institute.
Remember, you are not writing the
letter of recommendation humor
. You must strictly follow all the ACS guidelines to prepare your reference letter. For example, the dates should be in DD/MM/YYYY format.
Either you are writing the
recommendation letter for anesthesiology
or work letter of reference for immigration AU, you should only use the company letterhead. It is not enough to prepare the content at a plain page and take the signature of the company's authorized person. Such type of reference letters is simply rejected at a first glance.
ACS
ACS or "Australian Computer Society" is an Australian association for ICT (Information and Communications Technology) professionals with more than 26,000 members. The objects of ACS are promoting Australian ACT resources and professional excellence in information technology. For Australian immigration, you have to fulfil the ACS ICT skills assessment criteria. According to ACS ICT skills assessment, your educational qualifications and work experience should meet the professional ICT level requirements and must be closely allied with the nominated occupation "ANZSCO". In this process, your academic record is firstly assessed by using Australian national education standards to determine the AQF comparability. After this, your relevant work experience is assessed to meet the suitability criteria of ACS ICT.
List of Required Documents for ACS Letter
1st page of Passport or Birth Certificate
Degree or certificate and transcript
A letter of degree completion will also be accepted for Australian qualifications only.
Letter of reference from the employer for immigration in AU
Letter of personal reference for immigration in AU
ACS Recognition of Prior Learning Forms for applicants of Recognition of Prior Learning (RPL).
Resume/Curriculum Vitae
Advantages of Using Our Expert Service
When you search for a web page of LoR writing service for writing a letter of recommendation in AU, a long list of services come in front of you. You have no need to worry at all about choosing the best reference letter writing service. Just contact us to enjoy the most reliable, fast, committed and affordable reference letter service with following more benefits:
Money-back guarantee
Original and plagiarism-free high-quality content
Guaranteed confidentiality of valued clients
On time delivery
To get the best-written reference letter for immigration to Australia, contact us and enjoy our rapid, reliable and affordable writing service with a money-back guarantee!</h3