Applying for residency it's pretty complicated especially when there are other applicants who will be vying for the same spot as you. Aside from your application form, your grades as well as a letter of intent, it would be best if you attach recommendation letter for residency too as this can help the school get a better idea on who you are not just as a student but also as an individual. You can ask a close friend or perhaps a mentor to
write a letter of recommendation
for you.
Writing a reference letter for residency can be quite a challenge. You will need to familiarize yourself with the format you should use. Also, you will have to think of what makes that particular student unique. And this can be difficult if you do not know them that well.
But you can avoid all that by hiring a recommendation letter writing service. They will use the information you provide and tailor a personalized letter of recommendation.
Residencies We Will Help You With
Emergency Medicine
Family Practice
Internal Medicine
Pediatrics
Obstetrics-Gynecology
Neurology
Ophthalmology
Pathology
Psychiatry
General Surgery
Neurosurgery
Orthopedic Surgery
Physical Medicine
Diagnostic Radiology
Otolaryngology
Urology
Plastic Surgery
Anesthesiology
Dermatology
Radiation Oncology
Transitional/Preliminary
Our Exclusive Residency Application LoR Examples
If you need help with recommendation letters for residency, let us help you out. We only need information about the applicant as well as your side and we will use them to draft a residency application letter of recommendation that you can review. We will revise our work until you are happy with the results. When we finish with your letter of recommendation for residency, it is guaranteed to stand out.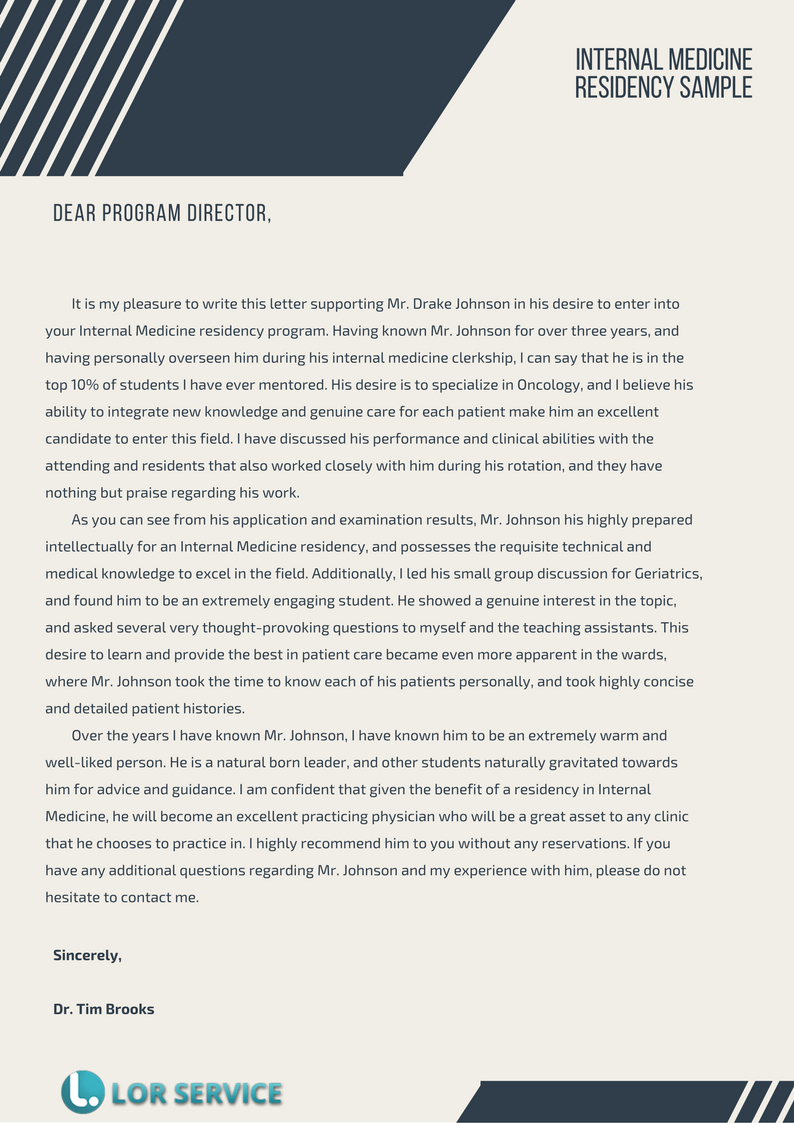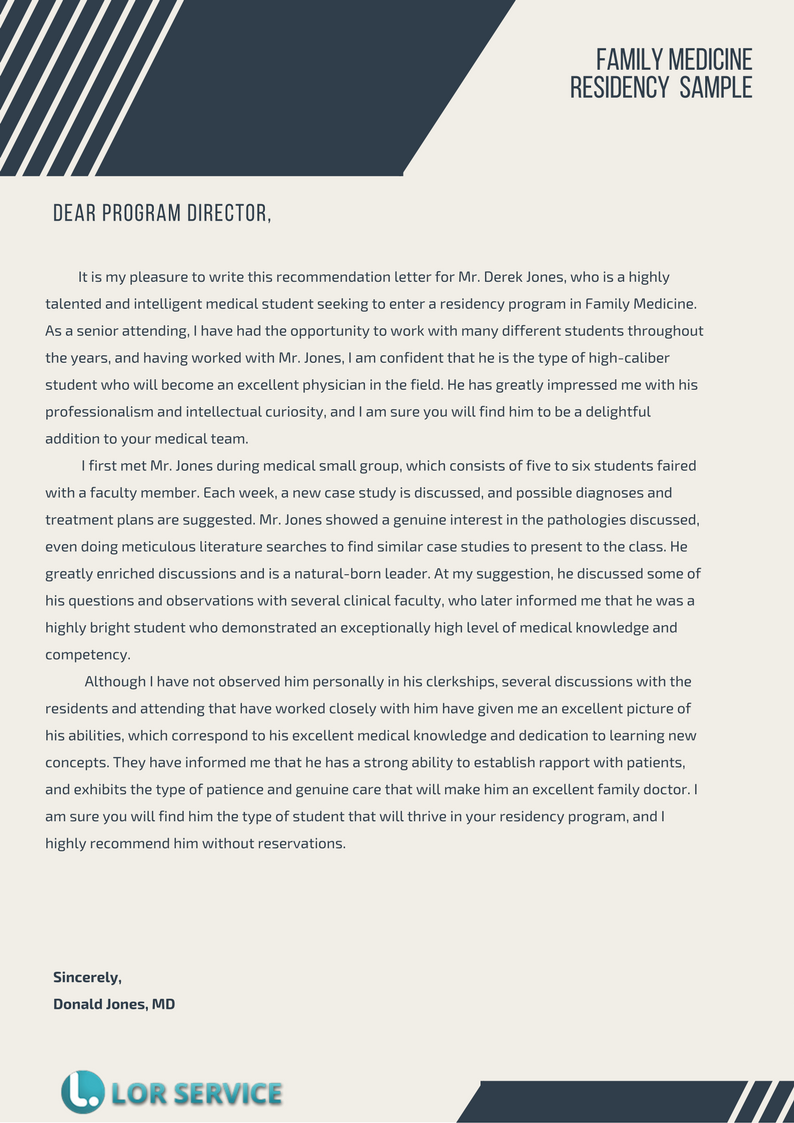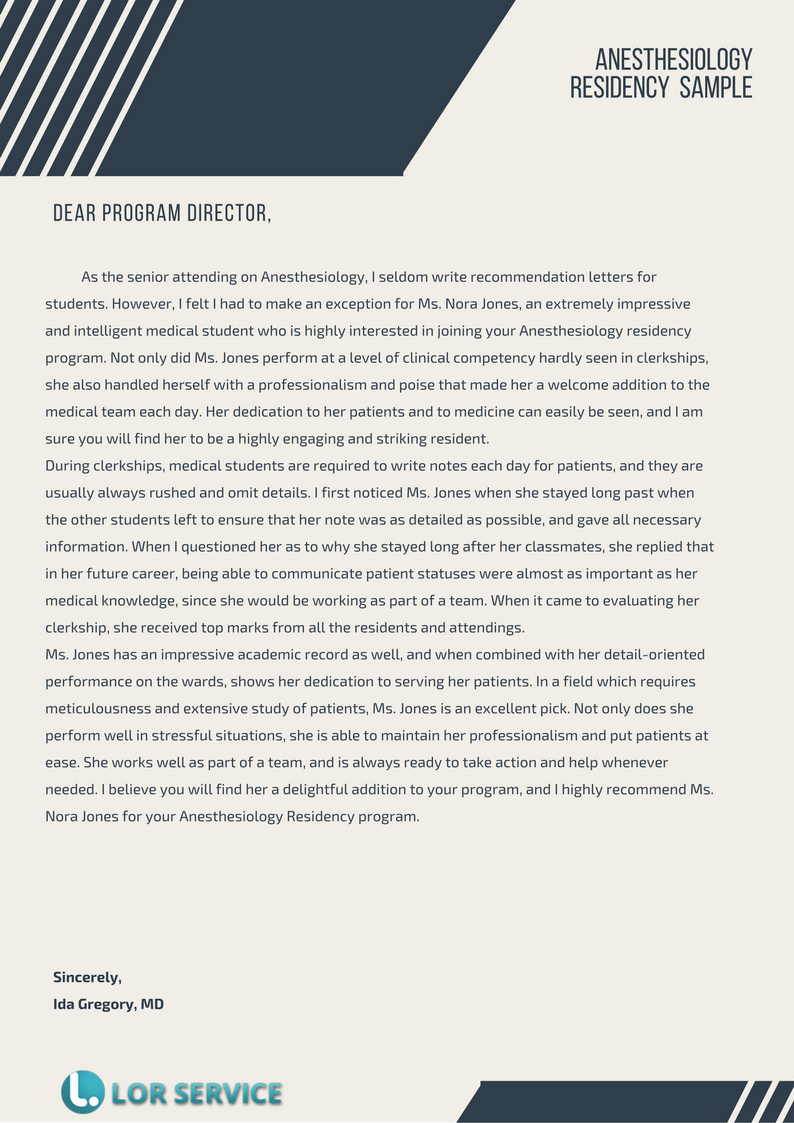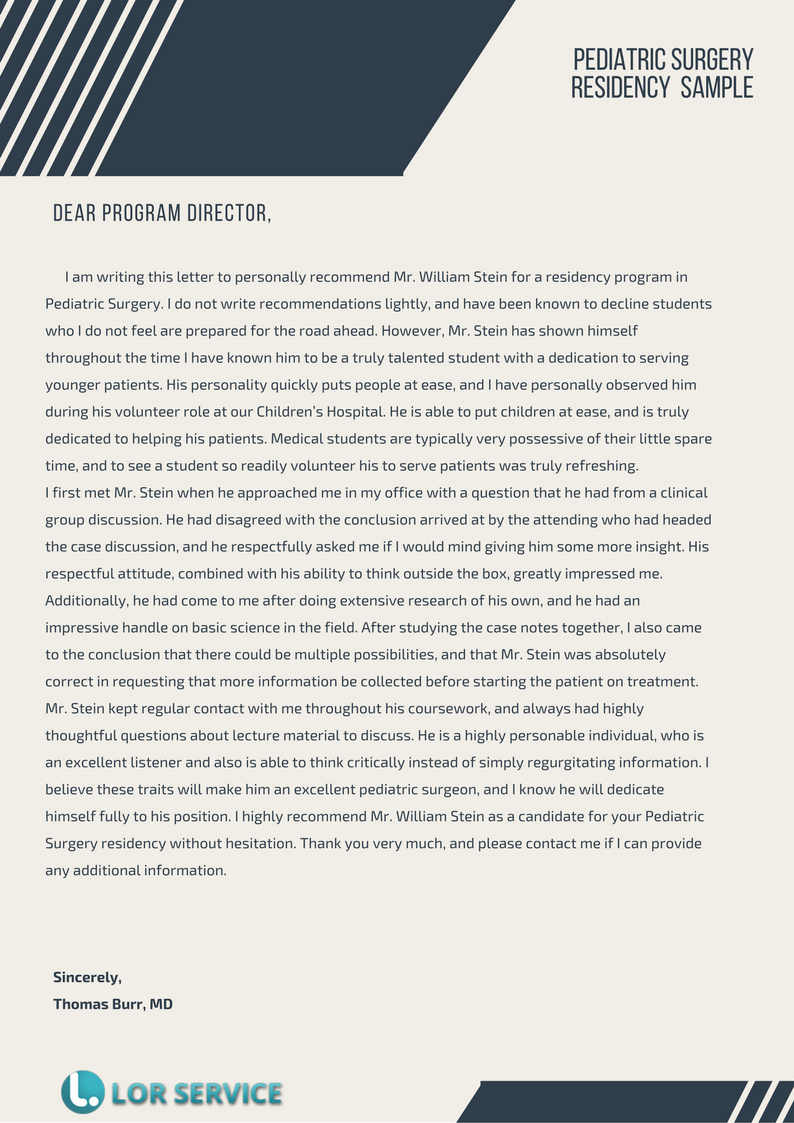 Improving Your Recommendation Letter for Residency
For those who are asked to write a LoR for residency, we understand that this can be a problem especially if you are not sure on how to write one. The good news is that we can assist you to create one that will stand out amongst other recommendation letters out there and answer all the important questions you may have:
How many residency LoR should I write?
You should only write one for each student. However, every candidate will usually need to submit three letters written by three different people.
What should I include in a recommendation letter for residency?
Since you will be assessing a candidate's academic performance and work ethic, you should include traits relevant to those points. You will also have to include your personal details at the end of the letter.
How many pages should I write?
Your letter of recommendation should only be one page long. However, you should write more than two paragraphs.
What is considered a good letter of recommendation for residency?
A good letter of recommendation is one that highlights the candidate's strongest skills and evaluates them by comparing them to their peers'. It has to be written in plain language and using persuasive sentences.
Can I hire a letter of recommendation writing service to help me with my LoR?
Yes. You can hire a professional service to help you with your letter. And if you do so, you will be able to submit a winning letter of recommendation. A professional writer can help you edit your LoR.
Your letter of recommendation for residency program, like a letter of recommendation psychiatry residency, is guaranteed to be high-quality looking because our professionals are all experienced to write this kind of letter.
Help with Writing Letters of Recommendation for Residency Programs
A residency letter of recommendation usually tells something about your background and your skills that are related to the residency program that you are applying for. The person who will write it for you should not just focus on the positives but also your negatives. This is one of the reasons why you should carefully select the person who you will ask for a LoR as well as for CaRMS letter of reference.
Besides our LoR writing service, we offer a wide range of services. Take a look at them:
Writing: Our writing service can help you write a personal statement, an admission essay, a letter of intent, or a scholarship essay, to name a few documents. We work with a team of specialized writers that can cover a wide range of subjects.
Editing: Some of the documents we edit within our editing service are personal statements, admission essays, letters of intent, etc. We have a skilled team of editors that do a thorough language change to spot mistakes and typos.
Rewriting: If you have already written your letter of recommendation, our pros can help you rewrite it. Our team will make some changes to make sure it is a strong one.
Improving: We can help you improve your letter of recommendation. We will work with what you have written, and add a few extra points while keeping the same tone.
Our service is definitely the best addition for you because:
Your recommendation letters will be perfectly formatted and include quality content.
LoR will be written according to all your requirements and expectations of the admission selection committee.
Recommendation letter composed with us will always have more chances to bring success in return for you.
Our experts' skills are truly exceptional and worth trusting to guarantee success.
We guarantee 100% satisfaction with our LoR help.
So writing your best residency letter of recommendation is possible with us!